We work with our members to help increase the nation's activity
Here's a summary of our latest successes
Sport England Tackling Inequalities Fund
EMD UK was awarded funding from Sport England's  £20m Tackling Equalities Fund which was made possible by National Lottery funding.  We worked with some of our partner organisations to support their projects which linked to the Fund's objectives –
To minimise the impact of COVID 19 on activity levels in under-represented groups, namely lower socio-economic groups, Black, Asian and Minority Ethnic communities, disabled people and people with long-term health conditions, ensuring that the physical activity participation inequality gap doesn't widen during this period in targeted communities
To enable community groups working with target audiences to continue to exist and retain the resources and capability to recover at the appropriate time
To provide funding for community groups working with Sport England target audiences to remain connected with their participants and keeping them active in the COVID 19 lockdown and early recovery stages.
Read about our projects here –
The Fitter Futures project, part-funded by Sport England, provides funded scholarships and business start up support to enable women to provide exercise classes in their local communities.
EMD UK has been supporting the development of one of the candidates on the Fitter Futures pilot project, which aims to help reduce inequalities, especially those faced by women, and to bring local communities together through exercise.
Reshma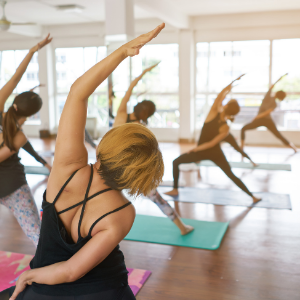 Reshma enrolled onto the Fitter Futures programme and qualified with EMD UK as a Level 2 Group Training to Music instructor in November 2020.  She is now in the middle of Phase 2 of the project, which is the delivery of her classes, and EMD UK is exploring with Reshma the possibility of her delivering online classes until face-to-face classes are permitted.
Reshma's aims are to offer all-female exercise classes, thereby creating a female-friendly environment.  She will be focusing on two target audiences –
Inactive young women aged 16-30, particularly those who are hard to reach, may be vulnerable or who are not in education, employment or training (NEET).  These classes will be offered as charity sessions.
South Asian women aged 50 and over who are new to the fitness industry due to the lack of knowledge, experience and opportunities in the local area.
You can read more about the project, and hear from Reshma herself  here